The Granddaddy of them all, the showcase of the immortals or the grandest stage of them all are just a few names used to describe the WWE's flagship Annual PPV, Wrestlemania. This year will mark the 33rd anniversary of an event started in 1985. Broadcasting LIVE from Orlando, Florida, the WWE have packed in a full card with every title on the line and a couple of marquee matches along the way.
Now this is one PPV I always make sure I am free for and the same will be said for this Sunday. I have my Wrestlemania buddy in Julien and here we take a look at all the matches and what we think will happen. Now we do not claim at all to be experts in this field and definitely do not have any inside information, however The Pom does like his research, and so I have looked through the depths of the internet to bring myself up to date with the happenings so we can give a more detailed opinion.
Have a read through and then please get in touch in the comments section or on Twitter @Aussie_ThePom as I would love to hear your thoughts. I will also be tweeting LIVE through the event so come on and hit me up on Twitter.
The match card has not been finalised and so I will go through where I THINK matches will place on the card:
Kick Off Show –
Neville vs Austin Aries Cruiserweight Championship – now let me first say one thing……… What the hell is this doing on the kick off show?!?! This surely has the potential to be one of the most stand out matches of the evening with two excellent technicians/show stealers on display. Honestly devastating that this is not on the main card!
The Pom: I can't see past a Neville victory here so that the feud continues and hopefully these guys eventually get the platform to showcase their skills at a later PPV
Julien: Neville is so wasted as a Cruiserweight and is actually too big in this category, I am going for an Austin Aries victory so he can become the new face of the division. WWE need to up their game as this has been a complete car crash since they revamped it, for a start get rid of the purple lights and ring ropes!!!
Andre The Giant Memorial Battle Royal – Possible one of the most pointless matches going and is literally an excuse to get more superstars on the card that don't have a feud going into Mania. Expect to see some big names in Sami Zayn, Big Show and Braun Strowman – all pretty much wasted in this match. You will get some comedy moments from a few jobbers, no doubt Heath Slater will be at his very best here
The Pom: If Braun Strowman doesn't win this, then we riot!!! Seriously get this over and done with and put the big man in a proper feud and not to job to Roman Reigns
Julien: I am glad it is on the Kick Off Show as this is just a poor man's Royal Rumble – Braun Strowman, but I honestly don't care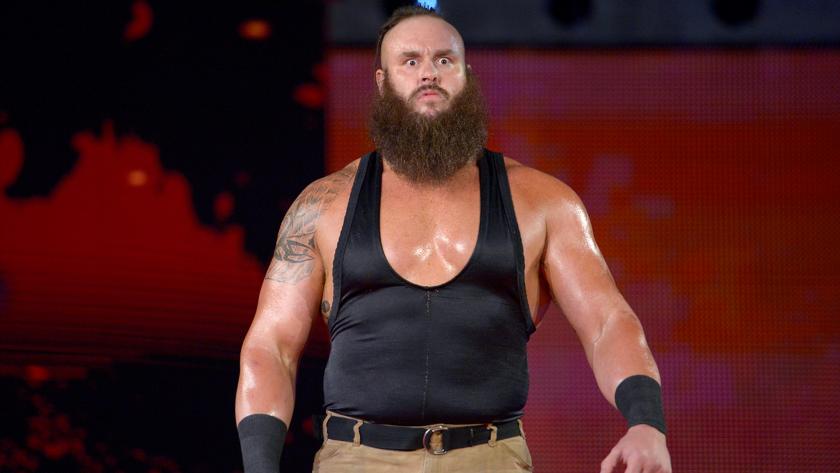 Smackdown Women's Title Match – Now there has been some controversy here as WWE initially moved this to the Kick Off Show but there was a huge fan backlash about the lack of respect show to the female superstars on the blue brand. This maybe moved but who knows!
The Pom: I want to go with Mickie James because she is massively underrated and I love her being back after some time away, however I think they are going to crown the returning Naomi
Julien: Again, I have no interest in this match due to the lack of build on Smackdown. I want Mickie James to win and that is where my thoughts end
Main Card:
Raw Tag Team Ladder Match – Enzo & Cass vs The Club vs Sheamus & Cesaro – The Club's booking has been so disappointing since they joined the WWE and I really thought they were going to change the game, not to the NWO level however I think they split AJ from The Club too soon. Enzo & Cass are going through a transition from fan favourites to the universe now getting bored with their same old routine – good a heel switch come in place here. Finally you have Sheamus & Cesaro and that's pretty much all I have to say about them
The Pom: Enzo & Cass
Julien: Unfortunately Enzo & Cass but hopefully they will turn heel
Surprise Match: Now I said at the start that ALL of the titles are on the line, one that isn't advertised is the Smackdown Tag Titles. A lot of speculation about the Broken Hardy's returning and potentially saving that for RAW. However I think the HUGE return on RAW is going to be Kurt Angle being announced as RAW GM and so I am hoping and praying Broken Hardy's return at Mania. The Usos are complaining to Daniel Bryan back stage about having no competition and so he sends them to the ring – Delete Delete Delete!!!! Broken Hardy's are back and win the titles on their return.
Dean Ambrose vs Baron Corbin IC Title Match – I know as Julien was looking into this he actually thought Ambrose was out injured, that is how little he has been used recently. This is a real filler match for us, but we are hoping they book Corbin strong during the bout as he has a great future.
The Pom: Baron Corbin wins clean and takes the title
Julien: Dean Ambros retains
Chris Jericho vs Kevin Owens US Title Match – Now we come to the BEST thing in the WWE at the moment and for the last 6 month's – Jeri-KO – what a bromance and in particular the performance of these two guys has been exceptional. Y2J with possibly the best gimmick of his career playing off just an all round superstar in KO. Should be a great story told during this one, with some good comedy moments but overall fantastic wrestling. Jericho is rumoured to be taking a break after Mania and so that pretty much tells us the result
The Pom: Kevin Owens clean – new US Champ
Julien: I am going with a Kevin Owens win here but with some Samoa Joe interference to set up this feud
John Cena & Nikki Bella vs The Miz & Maryse – From the best thing on RAW to the best thing on Smackdown. Take a bow Miz & Maryse!!! Massively underrated in our books is The Miz, his promo work with Daniel Bryan was fantastic and then they upped their game and dressed up as Cena & Nikki to spoof WWE Divas – Genius! A great build in this match and I think the gents will take centre stage and put on a classic
The Pom: Cena & Nikki to win – the rumour is Cena will propose in the ring after the match – that will just be awful!!!
Julien: Cena & Nikki but I am hoping for a Miz & Maryse win here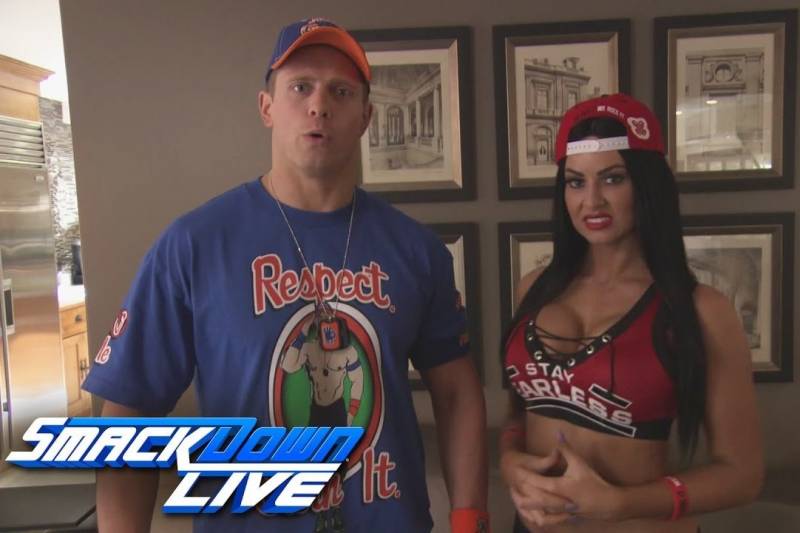 Shane McMahon vs AJ Styles – Why oh why bring potentially the best active wrestler in the world into your company, build him up for a whole here as the face who runs the place, and then have him square off against the bosses son. We know we are going to get some huge spots and Shane is no doubt going to go through a table from about 20ft in the air or something. But come on WWE, I would much rather see AJ go against Bray, or KO or Rollins or literally anyone!!!!
The Pom: If AJ does not win then I am never watching ever again
Julien: It has to just has to be AJ
Triple H vs Seth Rollins Unsanctioned Match – This had potential to be an awesome match but then Rollins did his knee in. As much as he is obviously fit again, it just means we will get The Game pinpointing the knee with a number of his attacks focused on that area. Leaving Rollins basically as a one legged man with Michael Cole saying at least 9 times that the man with 3 H's is the Cerebral Assasin. No doubt Triple H will have an epic entrance as well – potential Samoa Joe or Finn Balor interference…..
The Pom: Seth Rollins victory – Samoa Joe interference to then be stopped by a returning Finn Balor
Julien: Rollins with some sort of Baby Face miracle
Bray Wyatt vs Randy Orton WWE Title – We knew it was coming, The Viper siding with Bray was not going to last for ever and his turn when burning down Sister Abigails Shrine was pretty impressive. Luke Harper and Erick Rowan are knocking about in the background and could play a part. Should be a solid match here.
The Pom: Please Please Please let Bray take this and clean!!! I think he will retain the belt but it will either be via disqualification or help from a returning Rowan
Julien: Bray Wyatt is keeping the title either way so I am happy
RAW Women's Title Match: I think this will play a high part in the card as they usually do to keep the fans going after a big match. The ladies of the red brand are doing awesome and I am glad they stopped the Charlotte streak before Mania. It is definitely the unknown in this one but I think this is going to be one of the best of the night.
The Pom: I love me some boss, hoping Sasha Banks takes this and then KEEPS it for a while
Julien: Sasha Banks with a heel turn as well
Goldberg vs Brock Lesnar WWE Universal Title: There is just no way the MeekMahan (that's my 3rd Broken reference!!!) will put this match on last. It is going to be absolutely awful. My concern is that the ramp for Mania is always longer and so Bill 'Old'berg is going to be gassed by the time he gets to the ring. Much has been said about how long these two will actually go and for us it is time to say goodbye to Goldberg.
The Pom: The only way this is good is if it Brock takes a spear and Jackhammer and kicks out. Then it will be however many german suplexes Goldberg can actually take – F5 and a win
Julien: Brock Lesnar is going over here and in a complete squash match
The Undertaker vs Roman Reigns: Welcome to booking hell. This is surely going to close the show, but how do you book an ageing Taker that simply can't go anymore vs Reigns, the man the authority wants to run the place but the one the fans can't handle!? Reigns is a decent worker and everyone knows he needs to turn heel but WWE think they are onto another Cena type figure! WWE you are not trust me!!!! This wont be pretty at all but it will be brutal and we will be treated to all of the classic Taker move set and as much as I don't want Reigns to retire the great man, I also don't want to see Taker in his bashed up body anymore. Ride off into the sunset Taker, knowing you are one of the greatest superstars of all time.
The Pom: Pains me to say it but Reigns is going over and clean
Julien: It just has to be The Undertaker doesn't it?
Let us know your thoughts but also join us LIVE for the PPV on Twitter for thoughts and reactions throughout Wrestlemania!