As much as I am a Disney type of guy, I can honestly say that Beauty & the Beast has never really been my thing. However I thoroughly enjoyed the live action remake of The Jungle Book last year and so I thought, why not, let's go and see what everyone has been raving about. Now this is a non-spoiler review, however I am pretty sure that everyone knows the actual storyline, but my lips shall stay sealed.
The press coverage leading up to the release had been tremendous and it has got the setting to be one of the biggest films of the year. A chance for Disney to reinvent a classic and capture the hearts of a new generation that will have already been hooked on their cartoon versions.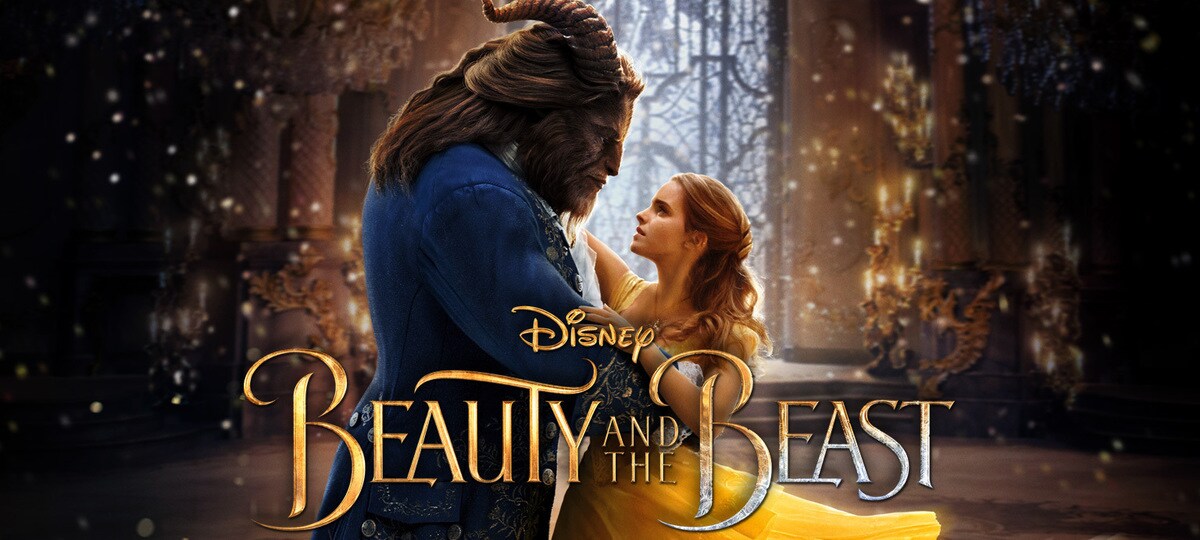 What's extraordinary for me from the off, is that Emma Watson will have two different generations with different perceptions of her. On the one hand, you will have the generation that grew up with her as first of all sweet little Hermione Granger, the muggle-born witch who played such a huge role in the Harry Potter franchise. We have all watched her grow from that young teenage girl, into an absolute Red-Carpet Queen! You will now have the generation who will love her as the strong-willed and curious Belle who transforms the life of a beast and all who she knows.
Emma Watson gives a fantastic performance in her role and brings a whole new side to Belle that we may not have seen before. As role models go for youngsters growing up, you would be remiss to say that she is not an excellent choice. She doesn't give into the narcissistic Gaston, but instead portrays herself as a very independent and industrious young woman. I was also very impressed with the singing ability as well and pleasantly surprised at the tunes she belted out along the way. Mrs Pom was also a huge fan of the Ear Cuff Wrap she wore toward the end of the film when she was all glammed up. A task has been set of me to find that exact same one, so if anyone can be of assistance, please drop it in the comments below!
I could discuss for a while about the rest of the cast, one of the highlights of this movie is the supporting cast are phenomenal. You don't just fixate on Belle and the Beast, but actually the whole ensemble cast are superb in their roles, honourable mentions are Josh Gad as LeFou, Ewan McGregor as Lumiere, Sir Ian McKellan as Cogsworth and Emma Thompson as Mrs Potts. For me the standout was Luke Evans as Gaston. I thought his performance was fantastic throughout the film and his character really evolved. At the start he appeared to be this bumbling but arrogant hunter who was just obsessed with making Belle his wife. By the end, you had a real hatred for him as his true colours showed, a remarkable performance by Luke Evans.
Now I didn't know there was so much music in the film! I mean I knew there was songs in there but this was a full on musical. This didn't turn me off though as I am partial to a good musical or two. The performances, the scenery and the costumes were fantastic throughout these songs, the original and the new additions they added were all flawless. I even got a strong feeling to applaud after each one, as you would do at a theatre. In particular 'Gaston' and 'Be Our Guest' were the stand out performances. 'Gaston' reminded me of the classic 'Master of The House' from Les Miserables.
So we have had great acting performances and strong musical numbers, yet I was left at the end feeling like something was missing. There was a lot of media and controversy leading up to the film about the "gay subplot" as it has been described. The two examples of this were a mere wink during the performance of 'Gaston' and at the end where LeFou dances with another man in a snapshot of the final scene. These were really insignificant plot points and maybe my perception was there was going to be some huge defining moment within the film. I mean Malaysia refused to show the film unless the scene was cut out, prompting Disney to not release it at all in Malaysia. Maybe my mind was elsewhere and I didn't appreciate the spectacle in front of me. Mrs Pom felt the same as we discussed it afterward. Don't get me wrong, it was a lot of fun, there were some great performances, however it just wasn't a Hollywood Blockbuster for me and definitely not in the same league as The Jungle Book last year.
However don't let me dissuade you from going to see it, but for me it's a nice Sunday afternoon chill out film rather than a must see classic.
On a side note and without spoiling the storyline, as the film concluded, Mrs Pom and I both looked at each other and the first thing we said was, "Oh well, I thought he looked better as the beast"! Sorry Dan Stevens, however you did not take away Mrs Pom's breath!